CAUGHT, written by Edward Pomerantz, based on his novel INTO IT, was directed by Robert M. Young, with Edward James Olmos and Maria Conchita Alonso in the starring roles. Selected as a Centerpiece Premiere at the Sundance Film Festival, CAUGHT was released theatrically by Sony Pictures Classics and nominated for three Independent Spirit Awards. It is currently available on video and DVD. The original soundtrack for CAUGHT, composed and performed by Chris Botti, is available on CD.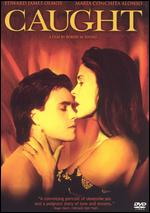 CRITICS ACROSS THE COUNTRY ARE HOOKED BY CAUGHT
"Avoid CAUGHT at your own peril...A tensely hypnotic tale of sexual obsession with breathless exotic results...Each character is deeply explored in the fine script by EDWARD POMERANTZ...See it and I'm betting you'll be as hooked as I am."
Rex Reed, New York Observer
"A masterly film that keeps generating tension and psychological force, placing the seamy sexual desperation of film noir right alongside the rigorous proprieties of classical tragedy."
Margo Jefferson, New York Times
"Scripted by EDWARD POMERANTZ from his novel INTO IT, CAUGHT has one of those rare stories that seems entirely of the moment and timelessly mythic all at once...A gritty masterpiece. Embodies an excellence that is beyond calculation...One of the season's best."
Godfrey Cheshire, New York Press
"Extremely powerful."
Jeffrey Lyons, Sneak Previews, ABC World News Now
"A deeply moving, powerful work of art."
Jim Moyer, Cover Magazine
"CAUGHT is beyond most other movies. It takes chances and uncovers a depth of human experience other movies avoid. I don't know another movie which so thoroughly pulls you into a world of uncontrollable passion and emotional conflict...You ride a terrifying edge...Few movies feel so thoroughly realized...By far the best film at Sundance. Reaches further and deeper than virtually any movie I've seen in years...It left me stunned."
Howie Movshovitz, Denver Post
"Riveting. Unleashes a raw power that is quite shattering...Builds in intensity... Tremendous suspense."
Stephen Farber, Movieline
"CAUGHT catches your attention and holds it. Done with shrewdness and imagination. Comes together with a surprising emotional power...Spins its web slowly and skillfully."
William Arnold, Seattle Post-Intelligencer
"A model of adult drama. A gripper. A climax of bursting power. Delivers with force."
David Elliott, San Diego Union-Tribune
"CAUGHT is very erotic and the heat of its sexual passion increases the pressure of the fury that slowly builds. The movie is grippingly paced. It is of mythic proportions and yet as painfully real as the cut of a knife."
Harper Barnes, St. Louis Post-Dispatch
"Shockingly moving."
Steven Talty, Time Out NY
"A diabolical tale of erotic entrapment. Full of sophisticated twists and plot turns."
Bob Fenster, Arizona Republic/Phoenix Gazette
"CAUGHT is intensely watchable...The kind of writing that inspires actors and holds audiences."
Joe Baltake, Sacramento Bee
"Elegant and concise...With its attention to character and careful exposition that keeps the story moving at a clip, CAUGHT has the intimate, fateful feel of all the best noir of the 1940's."
Richard Rayner, Harper's Bazaar
"CAUGHT will catch you off-guard. It's a raw seductive combination of love story and thriller that takes unexpected turns...Compelling characters and electric drama...One of the sharpest surprises of the year."
Sean P. Means, Salt Lake Tribune
"Steamy sex scenes abound, yet there is a corresponding emphasis on human frailty and the real needs that may drive decent people to infidelity, envy, cruelty, and murder."
Bruce Williamson, Playboy
"A conclusion that's really astonishing."
Roger Ebert
"Toward the end you realize how effectively and completely you've been caught by CAUGHT."
Bob Mondello, All Things Considered, National Public Radio